Welcome to York Township, Sandusky County, Ohio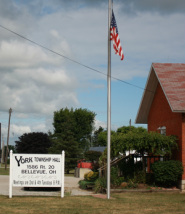 York Township is located in the southeast corner of Sandusky County, Ohio. Our population is 2,532. We have fire protection contracts with both the City of Bellevue and City of Clyde. These contracts are to provide adequate coverage to our residents since we are locate between these two cities.

Our meetings are held at the York Township Hall - 1586 West Main Street; Bellevue.
Meetings are on the second and fourth Tuesday of each month at 8:00 p.m.
Our close of year & begin of new year meeting will be December 31st at 9:00 a.m.


​York Township's next regular session meeting will be held on:
Tuesday, May 23rd 2017
at the township house.

We are Hiring!
York Township is hiring a a full time Road Assistant

Resumes being accepted until May 23, 2017 and must be sent to
1586 W. Main St. Bellevue, OH 44811
Description of Duties: Applicant will be responsible for the operation & maintenance of heavy equipment to include dump trucks, backhoe, grader, chainsaws & other small tools. The employee will help maintain township roads to include drainage & snow removal. Must be able to plow snow using large dump trucks & able to operate tractors & mowers for mowing roadside & cemeteries. Must be able to perform basic maintenance on trucks & equipment. Must have good verbal skills & be able to work with people.

Benefits: Wages $16-20 per hour depending on experience. Benefits include health insurance, vacation, sick & personal leave. Retirement into the OPERS system. Ten paid holidays per year.

Qualifications for employment: Must posses a Commercial Driver's License. Must be able to perform manual labor & be able to work in different weather conditions. Must be available for call-ins & overtime if needed. Employee will be subject to alcohol & drug testing.

Hours of Work: Monday-Friday 7:00AM - 3:30PM with lunch break.