Welcome to York Township, Sandusky County, Ohio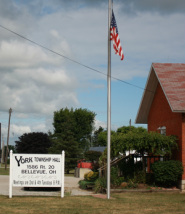 York Township is located in the southeast corner of Sandusky County, Ohio. Our population is 2,532. We have fire protection contracts with both the City of Bellevue and City of Clyde. These contracts are to provide adequate coverage to our residents since we are locate between these two cities.

Our meetings are held at the York Township Hall - 1586 West Main Street; Bellevue.
Meetings are on the second and fourth Tuesday of each month at 8:00 p.m.
Our close of year & begin of new year meeting will be December 31st at 9:00 a.m.


​York Township's next regular session meeting will be held on:

Wednesday April 11, 2018
at the township house.


Important Cemetery Clean-Up Information
Cemetery crews will clean up the cemeteries twice a year.
April 15th
​October 15th
All old mementos or wreaths will be removed at that time. Residents are urged to remove items before cleaning dates if it is something they want to keep.